Price

RM1,370.00

RM1,390.00

Product SKU
PSR-E363
Brand
Yamaha
Availability
Out Of Stock
Description
Highlight
Touch-sensitive keys add dynamics to your playing.
USB to HOST connectivity with MIDI and audio transfer — only one cable to connect
Backlit LCD allows users to read the screen under any lighting conditions
Yamaha Education Suite allows you to practice with preset, aux in, or computer-library songs
165 accompaniment Styles add a "backing band" to your performance or practice
Melody Suppressor isolates the melody of connected audio & lowers it for lead practice
Arpeggio function intelligently creates melodic and rhythmic patterns based on the notes played
Duo mode splits the keyboard into two halves, each with its own middle C for partner practice
Touch Tutor lesson mode analyzes keystroke velocity in order to teach dynamics
The Yamaha PSR-E363 Portable Keyboard offers a comfortable playability and easy portability to the developing musician. The PSR-363 has 61 keys, which is suitable for younger students who don't yet require a full scale length. This keyboard features over 550 voices that include synths, guitars, orchestral instruments and even drum kits, all with a range of effects. The Keys to Success and Y.E.S lesson functions assist with helping students independently develop their skills. The PSR-E363's 2 track, 5 song recorder is ideal for quickly storing your compositions, and can be sent via USB to your computer. This model can function from a power supply or batteries, so you can take your music on the go.
Keyboard
Touch-sensitive keys allow expressive dynamic control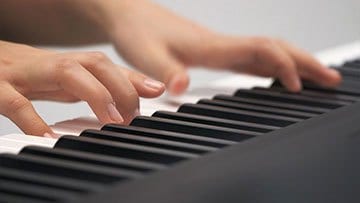 Play the keys heavily and you'll get louder tones, or play softly to achieve quieter sounds. The touch-sensitive keyboard will accurately reflect every nuance of your playing, making your performances musically expressive.
Sound
The better an instrument sounds, the more it inspires us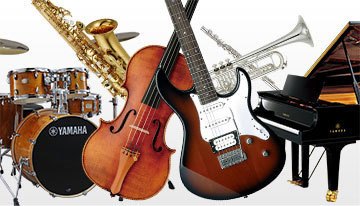 Yamaha has a proud history of manufacturing just about every kind of musical instrument. When it comes to reproducing the sound of these instruments in a keyboard, the results are detailed and high-quality.
The PSR-E363 features a comprehensive library of 574 instrument Voices that will allow you to enjoy playing any musical genre.
001 Grand Piano
007 Cool! Galaxy Electric Piano
032 Dynamic Nylon Guitar
070 Sweet! Tenor Sax
095 Sweet! Flute
107 Fargo
Real-time backing band tracks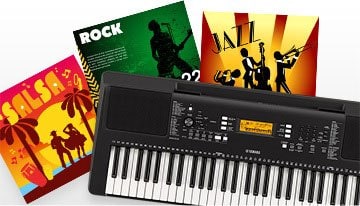 165 auto accompaniment Styles provide real-time band backing tracks based on the chords you play.
004 Happy8Beat
006 ContemporaryRock
041 EuroTrance
082 BossaNova
098 Salsa
110 AfricanGospel
Lesson
"Keys to Success" and other on-board lessons support learning to play
"Keys to Success" is based on teaching techniques shared with Yamaha over many years. Through short and easy, step-by-step lessons, players learn how to play entire songs.
To help build your skills, the the new "Touch Tutor" takes the mystery out of learning dynamic expression.
Download the Song Book to read the music for the built-in Songs
The Song Book includes not only the musical scores of the built-in Songs, but also provides tips for the on-board lessons with images, glossary and more.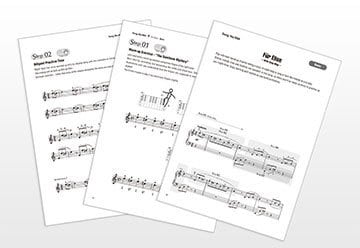 Function
Adjust the sound using digital effects and Master EQ
12 new Reverb effects add ambience to your playing making it sound like you're in a concert hall, a small club or a cathedral. Chorus adds warmth and makes the sound more spacious. The Master EQ is easily adjusted to get the best sound depending on whether you are listening through headphones, the built-in speakers or connected to an external sound system.
Reverb (Hall3) OFF
Reverb (Hall3) ON
Reverb (Cathedral) OFF
Reverb (Cathedral) ON
Arpeggios let you perform complex passages with ease
Choose from 150 Arpeggio phrases, and with the press of a single key, you'll be playing rich, musical passages. You'll sound like a pro!
Play with a partner
Duo mode allows two people to play together on the same instrument by creating two middle C notes. Enjoy playing the piano with friends and family!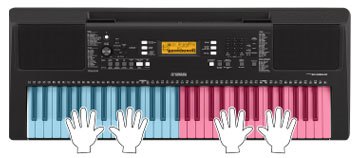 Connection
Play along with your favorite songs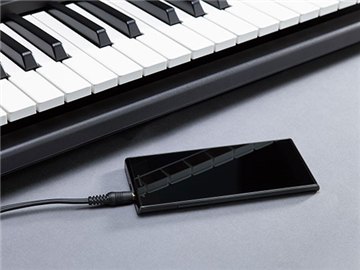 Connect your portable music player to hear your favorite music through the instrument's speakers. Play along and you feel like you've joined the band!
Connect to portable devices or computers for even more fun
The USB TO HOST terminal allows you to connect to a computer or portable device and record high-quality audio without the need for an additional interface. A variety of creative and educational iOS apps are available from the App Store*
*For iOS device connection, refer to the "iPhone / iPad Connection Manual"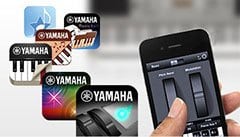 ​
PSR-E363

Size/Weight

Dimensions

Width

945 mm (37-3/16")

Height

118 mm (4-5/8")

Depth

368 mm (14-1/2")

Weight

Weight

4.6 kg (10 lb, 2 oz) (not including batteries)

Control Interface

Keyboard

Number of Keys

61

Touch Response

Yes

Display

Type

LCD display

Backlight

Yes

Language

English

Panel

Language

English

Voices

Tone Generation

Tone Generating Technology

AWM Stereo Sampling

Polyphony

Number of Polyphony (Max.)

48

Preset

Number of Voices

574 (197 Panel Voices + 18 Drum/SFX kits + 20 Arpeggio + 339 XGlite Voices)

Compatibility

GM

GM/XGlite

Effects

Types

Reverb

12 types

Chorus

5 types

Master EQ

6 types

Harmony

26 types

Functions

Dual

Yes

Split

Yes

Panel Sustain

Yes

Arpeggio

150 types

Melody Suppressor

Yes

Accompaniment Styles

Preset

Number of Preset Styles

165

Fingering

Multi finger

Style Control

ACMP ON/OFF, SYNC START, START/STOP, INTRO/ENDING/rit., MAIN/AUTO FILL

Other Features

Music Database

158

One Touch Setting (OTS)

Yes

External Styles

10

Songs

Preset

Number of Preset Songs

154 (including Touch Tutor: 10, Chord Study: 12, Chord Progression: 30)

Recording

Number of Songs

5

Number of Tracks

2

Data Capacity

Approx. 10,000 notes

Compatible Data Format

Playback

SMF Formats 0 & 1

Recording

Original File Format

Functions

Registration

Number of Buttons

9

Lesson/Guide

Lesson/Guide

KEYS TO SUCCESS, Lesson 1–3 (Listening, Timing, Waiting), Phrase Repeat, A-B Repeat, Chord Dictionary, Touch Tutor, Chord Study, Chord Progression

Overall Controls

Metronome

Yes

Tempo Range

11 - 280

Transpose

-12 to 0, 0 to +12

Tuning

427.0–440.0–453.0 Hz (approx. 0.2Hz increments)

Duo

Yes

Miscellaneous

PIANO Button

Yes (Portable Grand Button)

Storage and Connectivity

Storage

Internal Memory

Approx. 1.3MB

Connectivity

DC IN

12 V

Headphones

Standard stereo phone jack (PHONES/OUTPUT)

Sustain Pedal

Yes

AUX IN

Stereo mini jack

USB TO HOST

44.1kHz, 16bit, stereo

Amplifiers and Speakers

Amplifiers

2.5 W + 2.5 W

Speakers

12 cm × 2

Power Supply

Power Consumption

5 W (When using PA-130 AC adaptor)

Auto Power Off

Yes

Power Supply

Adaptors

AC Adaptor PA-130, PA-3C, or an equivalent recommended by Yamaha

Batteries

Six 1.5 V "AA" size alkaline (LR6), manganese (R6) or six 1.2 V "AA" size Ni-MH rechargeable batteries (HR6)

Accessories

Included Accessories

Music Rest

Yes
Reviews (0)
view all
back
What's in the box
Yamaha PSR-E363 x 1
Adaptor x 1
Book Rest x 1
Manual